A huge leak of documents has lifted the lid on how the rich and powerful use tax havens to hide their wealth. The files were leaked from one of the world's most secretive companies, a Panamanian law firm called Mossack Fonseca.
What are the Panama Papers?
In one case, the company offered an American millionaire fake ownership records to hide money from the authorities. This is in direct breach of international regulations designed to stop money laundering and tax evasion.
Who is in the papers?
There are links to 12 current or former heads of state in the data, including dictators accused of looting their own countries.
More than 60 relatives and associates of heads of state and other politicians are also implicated.
How do tax havens work?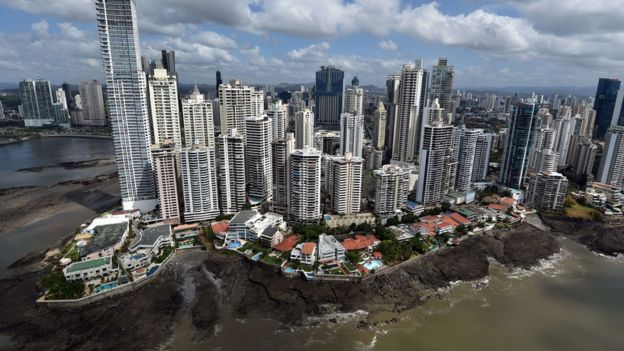 Although there are legitimate ways of using tax havens, most of what has been going on is about hiding the true owners of money, the origin of the money and avoiding paying tax on the money.
Some of the main allegations centre on the creation of shell companies, that have the outward appearance of being legitimate businesses, but are just empty shells. They do nothing but manage money, while hiding who owns it.
What do those involved have to say?
Who leaked the Panama Papers?
The BBC does not know the identity of the source.
The information in the documents dates back to 1977, and goes up to December last year. Emails make up the largest type of document leaked, but images of contracts and passports were also released.
How can I read the papers?
So far, a searchable archive is not available at the moment.
There is a huge amount of data, and much of it reportedly includes personal information (including passport details), and does not necessarily include those suspected of criminal activity.
What do they reveal?
The documents show the myriad ways in which the rich can exploit secretive offshore tax regimes. Twelve national leaders are among 143 politicians, their families and close associates from around the world known to have been using offshore tax havens.
What is Mossack Fonseca?
It is a Panama-based law firm whose services include incorporating companies in offshore jurisdictions such as the British Virgin Islands. It administers offshore firms for a yearly fee. Other services include wealth management.
Where is it based?
How big is it?
Mossack Fonseca is the world's fourth biggest provider of offshore services. It has acted for more than 300,000 companies. There is a strong UK connection. More than half of the companies are registered in British-administered tax havens, as well as in the UK itself.
How much data has been leaked?
Are all people who use offshore structures crooks?
No. Using offshore structures is entirely legal. There are many legitimate reasons for doing so. Business people in countries such as Russia and Ukraine typically put their assets offshore to defend them from "raids" by criminals, and to get around hard currency restrictions. Others use offshore for reasons of inheritance and estate planning.
Are some people who use offshore structures crooks?
What does Mossack Fonseca say about the leak?