Half of 1.2m bottles of Rift Valley wine are intended for export, with company planning to double production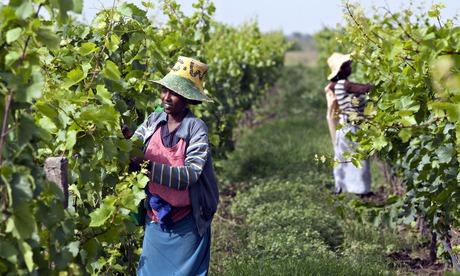 Half of the bottles are destined for domestic consumption and half for export to countries where the Ethiopian diaspora have settled, though 26,000 have already been snapped up by a Chinese buyer.
Although Castel does not expect its Ethiopian wine business to make a profit until 2016, it hopes to more than double production to 3m bottles a year. Though Ethiopia is better known for its production of another drink, coffee, Castel says the African country has the potential to rival the continent's main wine producer, South Africa.
"It's not that difficult because the climate is good and it's not too hot," Castel's Ethiopia site manager, Olivier Spillebout, told Agence France-Presse. "Exports are small now, but year after year they will grow."
The company has produced a better quality wine called Rift Valley, selling in Ethiopia for the equivalent of €7 (£5.50) and a grape-mix wine called Acacia, retailing at the equivalent of €5.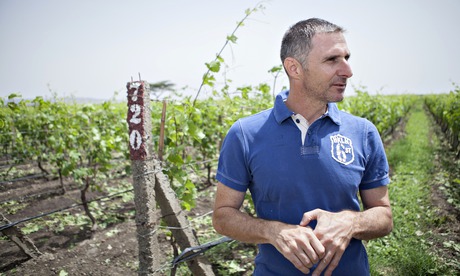 Wine experts say parts of Ethiopia's diverse landscape, which includes high plateaux and verdant valleys as well as six climatic zones, are perfect for grape growing.
Pierre Castel, the billionaire founder of the family-run group, could see the potential in the sandy Ethiopian soil, the short rainy season, cheap land and equally cheap and abundant labour for wine production. The Castel company had been producing beer in Ethiopia since 1998 after buying the state-owned brewery called St-Georges.
After striking a deal with the Ethiopian government in 2007, Castel immediately dispatched the company's best French experts who spent seven months looking for areas for the vineyards.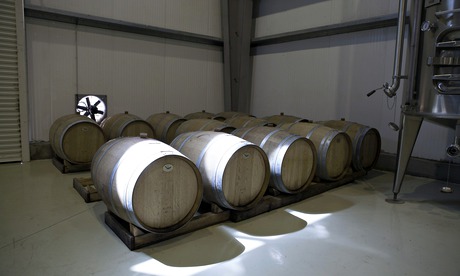 They finally chose a site 100 miles (160km) to the south of the capital, near the town of Ziway, where 750,000 vines, brought from Bordeaux, were planted over 125 hectares by 750 local workers. Merlot, syrah and cabernet sauvignon grapes were chosen for the reds that make up 90% of Castel's Rift Valley production, and chardonnay grapes for the white wines.
A member of the Castel team, who did not want to be named, told the Guardian the aim of the company's "considerable investment" in the Ethiopian vineyards was to produce a wine of international quality.
While there had been several grape harvests since 2007, this was the first time the company had bottled the wine produced.
"We have used the same savoir faire we used on our French vineyards and as we do on those in Morocco and Tunisia, to produce this Ethiopian wine," he said. "Our objective is to produce a wine worthy of international standards so we preferred to have multiple trials before engaging in the process of commercialising the wine."
He said the wine produced was "aromatic and fruity", with a pleasant, middle-of-the-road taste.
A delighted Ahmed Abtew, the Ethiopian industry minister, said in a recent interview: "People who live outside Ethiopia remember the drought a decade ago, but when they see a wine labelled 'Made in Ethiopia' … oh, their whole attitude immediately changes."
While French winemakers lament their vines being devastated by disease and a series of catastrophic hailstorms, growing grapes in the Horn of Africa is not without its hazards.
Castel's Ethiopian vineyards are surrounded by a two-metre-wide trench to deter pythons, hippopotamuses and hyenas.