Michael Buerk's famished Ethiopia of 1984 has become a nation achieving 93% GDP growth in six years, finds study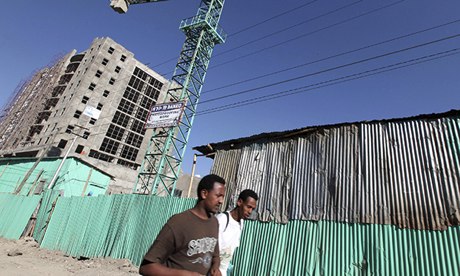 Now further evidence of its turnaround has arrived with research showing that Ethiopia is creating millionaires at a faster rate than any other country on the continent.
The study finds that the rise in millionaires has been closely tied to GDP growth, in which Ethiopia has also fared best over the past six years achieving 93%, followed by Egypt (81%) and Angola (61%).
The authors note, however, that Ethiopia started from a very low base, and its per capital wealth is still just $470 (£287), compared to $3,187 (£1,948) in Egypt and $7,508 (£4,588) in South Africa.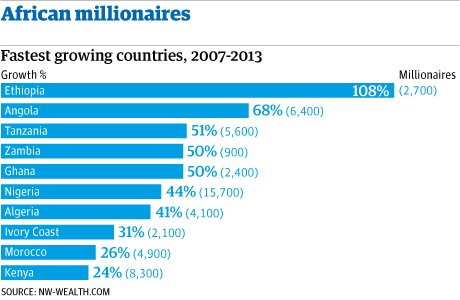 Andrew Amoils, a senior analyst at New World Wealth, said: "The economic and wealth growth in Ethiopia over the last five or six years has been really strong. There has been a lot of privatisation and certain sectors are growing well. It's a huge upswing but it started from a low base."
As in other parts of Africa, however, the growth is not necessarily shared.
"The millionaires are growing at a faster rate than the middle class, which doesn't really exist in a lot of African countries, including Ethiopia," Amoils said. "Angola, for example, has had massive millionaire growth in the last 10 years but that hasn't spilled through to the average Angolan."
But whereas much of Africa's boom has been driven by mineral resources, leading sectors for millionaires in Ethiopia include agriculture, manufacturing and transport.
A construction boom is underway in the capital, Addis Ababa, but Amare Abebaw, a social entrepreneur, said the rest of the world does still did not appreciate the country's extraordinary transformation.
"When I go home and watch TV I still see the famine from the 80s and I wonder how do they still show this on the BBC when things have improved here? It is painful for us. We know it is part of our history but we want to focus on the present."
Nevertheless, while the number of millionaires is definitely increasing, they remain a fraction of the population.
"There are a few at the top but the majority of people are at the bottom, like in other countries," Abebaw said. "There are self-made millionaires and people are proud to know them. There are others where you don't know where they got the money from, and suspicions may arise from the population."
South Africa is the top African country for millionaires with 48,700 in 2013, followed by Egypt with 22,800 and Nigeria with 15,700.
Richard Dowden, director of the Royal African Society, said he had witnessed the rise of tower blocks, traffic jams and people now "walking with a purpose" in Addis Ababa.
He added: "You don't see many Ethiopians in flashy cars, like you do with Luanda or Lagos [citizens in their respective countries]. Flaunting your wealth is not part of the culture."
The Ethiopian government claims credit for the growth but is criticised as authoritarian by human rights groups; there is only one opposition MP.